2009 New-Home Builder Customer Satisfaction Study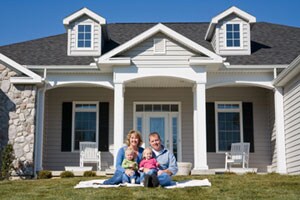 The housing slump that has taken root across the country has been well documented. Loose lending practices, bad loans, record unemployment, mounting foreclosures, plummeting home values, the credit crunch, oversupply-all have combined to burst the proverbial bubble and bring the industry to its knees. And it's not just homeowners that have been feeling the pinch. Real estate agents, mortgage lenders, new-home builders, construction laborers, and workers in many other related fields have also seen their fortunes evaporate.
The unfortunate turn of events in the housing industry has had one positive outcome, however: a significant increase in customer satisfaction with new-home builders. In fact, a recent survey of new-home buyers reveals that customer satisfaction with new-home builders and new-home quality has improved notably from 2008. According to the 2009 U.S. New-Home Builder Customer Satisfaction Study, overall customer satisfaction improves for a second consecutive year, averaging 811 on a 1,000-point scale in 2009, and up 32 points from 779 in 2008.
The New-Home Builder Customer Satisfaction Study, now in its 13th year, includes satisfaction rankings for builders in 24 markets. Nine factors are analyzed to determine overall customer satisfaction with new-home builders, including:
workmanship/materials
builder's warranty/customer service staff
price/value
builder's sales staff
construction manager
home readiness
recreational facilities provided by the builder
builder's design center
location
Markets with the highest levels of overall satisfaction in 2009 include
Orange/San Diego, Calif.
;
Sacramento, Calif.
;
Phoenix, Ariz.
;
Inland Empire, Calif.
; and
Tampa, Fla
. In addition, overall satisfaction has increased in 22 of the 23 individual markets that were also surveyed in 2008.
The study finds that the importance of the workmanship and materials factor has increased notably from 2008. Meanwhile, the builder's sales staff, construction manager and home readiness factors have declined in importance. According to the study, the proportion of homes delivered both completely finished and on time has increased notably to 76 percent in 2009-from 70 percent in 2008.
"Compared with past years, fewer home buyers are spending large amounts of time working with construction managers or are concerned about home readiness, since many builders have large inventories of homes that are already complete at the point of purchase," said Paula Sonkin, vice president of the real estate and construction industries practice at J.D. Power and Associates. "For home owners, this can make for a smoother, turnkey ownership experience, with fewer unanticipated delays."
Overall New-Home Builder Customer Satisfaction Rankings
Pulte brands (which include Del Webb, DiVosta Homes and Pulte Homes) rank highest in customer satisfaction among new-home builders in 12 markets. Pulte Homes, Inc. is headquartered in Bloomfield Hills, Mich. Besides the Pulte brands, other builders with the highest rankings in their respective markets include (in alphabetical order):
Ashton Woods (which ties with Village Builders in the Houston market and is headquartered in Roswell, Ga.)
Brookfield Homes (Fairfax, Va.)
Centex Homes (Bloomfield Hills, Mich.)
Darling Homes (Frisco, Texas)
David Weekley Homes (which ties with Pulte Homes in the Austin market and is headquartered in Houston, Texas)
K. Hovnanian (Red Bank, N.J.)
Lennar (Miami, Fla.)
M/I Homes (Columbus, Ohio)
Pardee Homes (Los Angeles, Calif.)
Shea Homes (Walnut, Calif.)
Standard Pacific Homes (Irvine, Calif.)
Village Builders (which ties with Ashton Woods in the Houston market and is headquartered in Houston, Texas.)
Next Page
Page 1 of 3