2009 Cabinet Satisfaction Study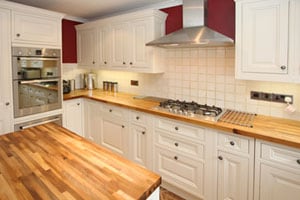 One of the most important decisions a consumer faces when building a new home or remodeling an existing space involves the cabinets. After all, the cabinets are not only a focal point of the room or space but also represent a significant expense. Make the wrong cabinet choice and it can be costly, both in terms of money and time.
To find out which cabinet manufacturers provide the best product and customer service, J.D. Power and Associates recently surveyed consumers about their cabinet purchase experience. The 2009 Cabinet Satisfaction Study measures customer satisfaction with cabinets based on evaluations in five factors (in order of importance):
ordering and delivery;
price;
operational performance;
design features;
warranty.
Respondents may have installed the cabinets themselves or with help from family and friends; hired an independent contractor or remodeler; used an installation service provided by a home improvement retailer; or used an installation service provided by the product manufacturer.
The study finds that the importance of ordering and delivery in customer satisfaction with cabinets has decreased considerably compared with 2008. At the same time, the importance of price and design has increased. "Consumer appetites for large remodeling projects have diminished, due to the trying economic times," said Jim Howland, senior director of the real estate and construction practice at J.D. Power and Associates. "As a result, consumers are more price-sensitive when choosing cabinetry." Howland adds that although it has decreased in importance from previous years, providing good service during ordering and delivery still can effectively differentiate cabinet manufacturers from their competition, even as consumers have become more price-sensitive.
Highlights of the study include:
KraftMaid Cabinetry ranks highest among cabinet manufacturers in satisfying customers with a score of 749 on a 1,000-point scale, and performs particularly well in three of five factors: ordering and delivery, operational performance and design features.
Armstrong (746) follows in the rankings, performing particularly well in the price and warranty factors. Kitchen Craft Cabinetry (730) also ranks above the industry average.
Overall, cabinet manufacturers perform well in the ordering and delivery process, as 91 percent of customers received their cabinets as ordered, and 90 percent received their cabinets on time. Also, 86 percent received their cabinets both as ordered and on time.
There is room for improvement when it comes to delivery, however, as 19 percent of customers reported that their cabinets arrived damaged.
Next Page
Page 1 of 2