2010 Chevrolet Equinox Preview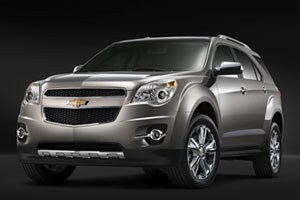 Critical Knowledge:
All-new compact crossover available in LS, LT and LTZ trim
Standard front-wheel drive (FWD) with optional all-wheel-drive (AWD)
Two all-new engines: 2.4-liter, 4-cylinder and 3.0-liter V-6
Standard ABS, traction, and stability control
Six standard air bags
Standard "Smart" remote engine starting activates heating/air conditioning and heated seats
Choice between 17-, 18- and 19-inch alloy wheels
On sale in mid-2009 as 2010 model
Introduction
First introduced as a 2005 model
, and
updated slightly for 2007
, the Chevrolet Equinox gets a complete redesign for 2010. With exterior design inspired by the Malibu sedan and Traverse crossover, the new 2010 Chevrolet Equinox crossover utility vehicle (CUV) has the same 112.5-inch wheelbase as the previous version, but is an inch wider and about one inch shorter. The front track is also wider to improve ride and handling, according to
Chevrolet
. When the 2010 Equinox goes on sale in mid-2009, it will be available in LS, LT and LTZ trims, each with available all-wheel drive (AWD). Two all-new engines will be offered, a 2.4-liter 4-cylinder delivering an estimated 30 mpg highway and a 3.0-liter V-6 expected to achieve 25 mpg highway.
For more information:
Next Page
Page 1 of 4