2010 Ford Mustang Preview
Date Published:

01/01/2010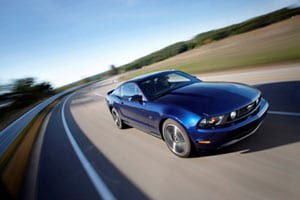 Critical Knowledge:
Revised exterior and interior styling
Improved interior materials
More sound deadening material to reduce interior noise
V-8 horsepower up from 300 to 315
More safety features
New technology features
Improved handling
Standard stability control
On sale spring 2009
Introduction
When it was released as a 1964_ model, the Ford Mustang was the first American pony car. In fact, the term "pony car" was inspired by the Mustang's name and iconic badge. In an era when midsize and full-size cars went fast in a straight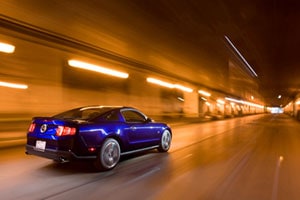 line, but didn't want to go around corners, the Mustang handled well by 1960s standards and offered V-8 power in a lightweight package. Rivals such as the
Chevrolet Camaro
,
Pontiac Firebird
and
Dodge Challenger
came and went, but the Mustang soldiered on without production interruptions. Now, 45 years after its debut, the Mustang once again faces a challenge from a reborn Dodge Challenger and the soon-to-be-released
2010 Chevy Camaro
. Not to be left behind,
Ford
is updating the Mustang for 2010.
Last redesigned for the 2005 model year
, the Mustang gets new exterior sheetmetal, an upgraded interior, improved ride and handling, and more power from the available V-8 engine for 2010. Coupe and convertible body styles return, as does the optional
fixed glass roof panel
for the coupe. Like the
2009 model
, the 2010 Mustang will have 2+2 seating with a small back seat and V-6 or V-8 power. Electronic stability control becomes standard, and a rearview camera is offered for the first time.
For more information:
Next Page
Page 1 of 5